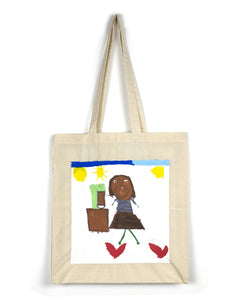 Katie Bretzman
Annie, 2021
paint marker on canvas tote bag
14.5 x 16 inches

This clothing item is one of a kind and to ensure its preservation we recommend spot cleaning only.
View more work by Katie Bretzman
This piece will ship after November 3, 2021, as it is included in Sunshine Sunset Fashion, an exhibition currently on view at Interact Gallery.
Image description: A poto of a tote bag with a hand-drawn image on the front. A figure drawn in brown, grey, and green faces forward, smiling. A bright yellow sun and two other celestial bodies are behind them.