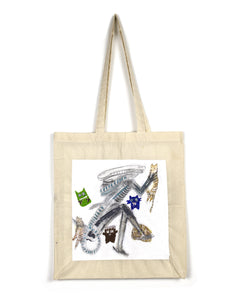 Laurie M.
Kitty Corral, 2021
graphite and acrylic on canvas tote bag
14.5 x 16 inches

This clothing item is one of a kind and to ensure its preservation we recommend spot cleaning only.
Image description: A photo of a tote bag with a hand-painted design on the front. A grey alien holds up a cat in its arms. Two other cats wrestle with its foot and tail. Three other creatures, known by Laurie M. as Drexel, Trudy, and Myrtle float around the scene.