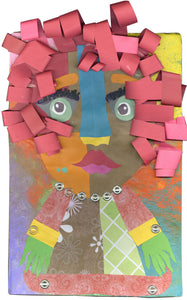 Kandis O.
Woman That Doesn't Feel One Way or Another, 2021
mixed media collage on cardboard
12 x 18 inches
Image description: A collage of an unexpressive woman with red curly hair made from looped strips of paper. She has green eyes and is wearing a rhinestone necklace. Her arms are straight at her sides and her hands are bright green.