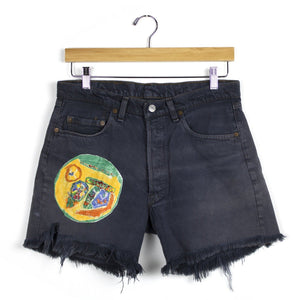 Eric Sherarts
Sunflowers, 2021
embroidered patch on found jean shorts
30 inches across waist, 14 inches long
This clothing item is one of a kind and to ensure its preservation we recommend spot cleaning only.
View more work by Eric Sherarts
This piece will ship after November 3, 2021, as it is included in Sunshine Sunset Fashion, an exhibition currently on view at Interact Gallery.
Image description:  An upcycled pair of dark blue denim shorts with a hand painted, embroidered patch sewn on the front right leg. The patch is circular and approximately 6 inches across, it is painted mostly yellow with a thin, green border. The central design consists of abstract embroidered shapes representing sunflowers. There is an orange circle top left and a curving orange shape bottom right with a half-blue half-green circle nesting in it. In the center is another circle with blue, green, and red accents.