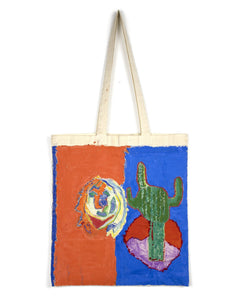 Eric Sherarts
Arizona Rainbow, 2021
embroidery and acrylic on canvas tote bag
14.5 x 16 inches
This clothing item is one of a kind and to ensure its preservation we recommend spot cleaning only.
View more work by Eric Sherarts
This piece will ship after November 3, 2021, as it is included in Sunshine Sunset Fashion, an exhibition currently on view at Interact Gallery.
Image description: A photo of a tote bag that is hand painted in orange, blue, green, red, and purple. On the left is the face of a figure, referred to by Sherarts as The Joker. The background behind it is orange. The right side of the tote is painted mostly blue, and a green cactus with three limbs is centered there.