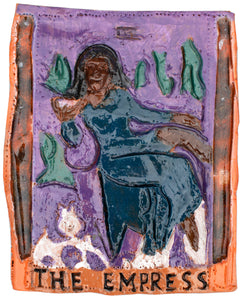 D.D.
The Empress, 2022
ceramic

10 x 12 inches
The Empress represents sensuality, creativity, and fertility, all the elements of femininity. Whether you're entering a new relationship or starting a new project, this card shows you that "woman power" will guide you through to a successful conclusion. A great card to make an appearance in your reading.

I am the mother of creation, the beginning of gestation of life, I am the wife birthing art, my marriage a romance for the ages in various stages of beats in 3/4 time with rhythm I influence all new ventures no matter how large or small, I bless them all, no matter how simple or complex, yet I will guide you step-by-step from one masterpiece to the next, whether drawing or painting or sculpting a design of divine, sublime inspiration.
Image description: A glazed ceramic plaque representing The Empress from the Tarot. A woman in a dark teal dress sits in front of a purple background, surrounded by greenery. There are dark brown stripes running vertically to the left and right of the figure and "The Empress" is stamped on the bottom edge, defined with black.