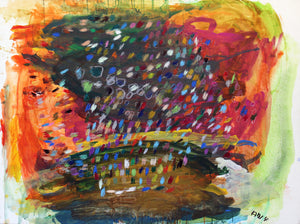 Andrew Seymour
Summer, 2018
mixed media on stretched canvas, mounted in a white floating frame
48 x 36 inches

This piece is available for local pickup only.
View more work by Andrew Seymour
Image description: A large rectangular painting on stretched white canvas with orange, dark green, red, and light green paint covering the background. Small dots of many colors and irregular shape sit on top of large patches of color. Some of the dots in the center of the painting are outlined in white.