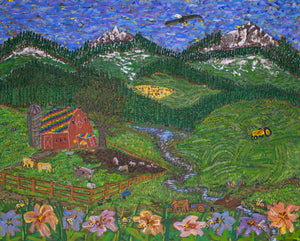 Mike Harris Jr. 
Howards Farm, 2019
acrylic on stretched canvas
60 x 40 inches
This piece is available for local pickup only.
Image description: Rolling hills patterned with crops and flowers and trees give way to snow-capped mountains in the distance against a blue sky. A red barn has a striped, rainbow-patterned roof. Animals are in the pasture. A blue creek snakes through the valley. A bald eagle flies overhead in the distance.