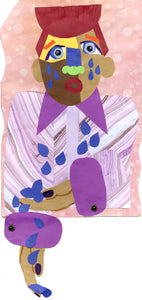 Kandis O.
Man Very Upset and Emotional, He's Crying, 2021
mixed media collage on foam board
12 x 24 inches
Image description: A collage of a man from the waist up. He has short red hair, blue eyes, and is wearing a purple collared shirt. There are big, dark blue teardrops falling from his eyes into his raised left hand.