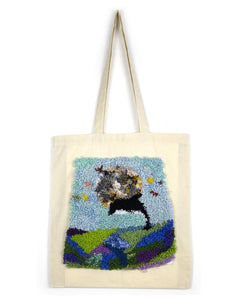 Ingrid Hansen
Moon Beautiful, 2021
loop stitch patch on canvas tote bag

14.5 x 16 inches
This clothing item is one of a kind and to ensure its preservation we recommend spot cleaning only.
View more work by Ingrid Hansen
This piece will ship after November 3, 2021, as it is included in Sunshine Sunset Fashion, an exhibition currently on view at Interact Gallery.
Image description: A photo of a cream tote bag with a hand-tufted patch on the front. The patch is tufted in light blue, primary blue, greys, black, green, purple, yellow, and pink fibers. A black and white porpoise spy hops above water, a blue sky and celestial body behind it.