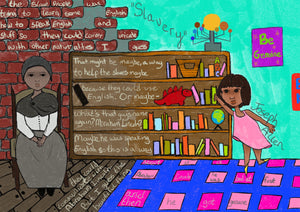 Virginia Townsend
Slavery, 2021
archival inkjet / giclée print
8.5 x 6 inches
Virginia Townsend made this piece as part of a collaboration between Interact artists and authors at Cow Tipping Press. Townsend's piece responds to Joseph Allen's poem of the same name, and excerpts from Allen's text appear throughout the piece.
Please allow up to two weeks for us to process and fulfill digital print orders. We are happy to answer your questions at gallery@interactcenter.com.
Image description: A woman with medium-dark skin tone is seated on the left and clad in an old-fashioned dress, while a girl with medium-dark skin tone and a pink dress is reaching for a book on a shelf in the brightly colored classroom setting on the right side of the image. The seated woman is rendered in desaturated grayscale tone. A bookshelf that comprises the center of the image is filled with text on the left side and on the right side are brightly colored books and teaching objects that include a globe and a red dinosaur figure, and a diorama of the solar system sitting on top. On the classroom floor are light and dark pink squares in a blue plain, with words of the poem written in the squares. A poster on the aqua green wall above the girl says "Be Genuine," in green text on a purple plane.
View more work by Virginia Townsend